Curriculum
At Hope C.E. Primary School, we offer an ambitious and varied curriculum which incorporates our rich local environment and the wider world and builds on children's interests and talents. When creating our four year rolling programme, careful consideration was given to the links between subjects and key skills and ensuring that the statutory demands of the National Curriculum (2014) are met.
The curriculum has been developed as a spiral curriculum to ensure that the core elements are revisited throughout a child's time with us, to ensure that every child reaches their full potential and has experienced a broad and balanced curriculum.
At Hope, lessons are planned to be engaging, challenging and fun. Children are encouraged to reflect upon what they have learnt and where they need to go next. We have a curriculum that brings subjects together in a meaningful and relevant manner through the use of themes, e.g. a theme on the Titanic has been used to bring together the subject areas of History, ICT, Design and Technology, Art, Maths, English and Music.
These themes are called 'Learning Challenges'. Each theme is composed of a set of key questions and in addition we ask children what they know about the topic and what they would like to know. An integral part of bringing the curriculum alive is the quality of resources used, the use of sophisticated ICT, visits and visiting speakers.
Although our Learning Challenge curriculum aims to cover all core elements, there are occasions when subjects and skills are taught discretely.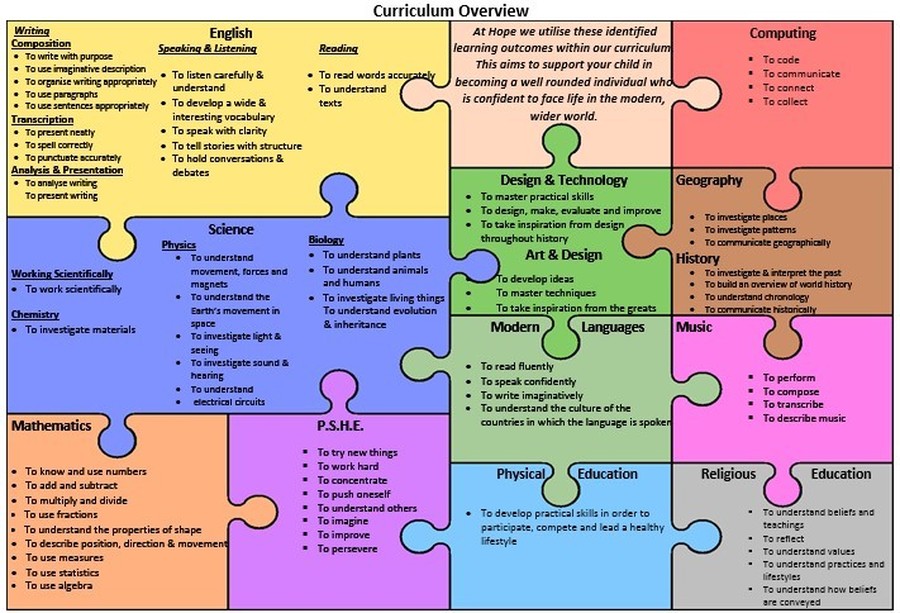 For further information on subjects, please click here.
If you require any further information regarding our curriculum,
please contact Mrs. Foulkes or Miss. Edwards.